Grain Mill Diamond Hand Mill D.525 for particularly high demands
The housing and the funnel are made of cast steel and painted green. The cubic handle is made of beech wood. The basic grinding discs are the medium version 14/15 made of steel and therefore suitable for various types of grain and oily feed.
Standard model 2022 without belt V-groove, motor can only be used if the belt pulley is exchanged for one with a V-groove.
The flywheel of the version with belt V-groove has a groove for a motor drive by means of a V-belt.
Dimensions: L/W/H approx. 44/42/32 cm, Weight 26kg.
Available accessories:
BENEFITS OF THE DIAMANT GRAIN MILL
The Diamant grain mill is easily the finest mill we've tested. After analysing dozens of mills, this one emerged head and shoulders above the rest. It is beautiful, high performing and, since it is made entirely of cast iron, it will far outlast lighter aluminum mills. Equally at home in the farmer's barn cracking bushels of corn for livestock or in the baker's kitchen milling fine flour for delicate pastries. If you are looking for a high quality, long-lasting product, the Diamant grain mill will not disappoint.
Grinds fast and fine
Grinds virtually anything (without need of additional augers)
Easy to use
Solid cast iron – Built to last with little maintenance!
Classic Hand Operated Mill
We all know the expression "Daily Grind" wasn't coined as something to look forward to. However, where coffee, corn or spices are concerned, the daily grind can and should be one of life's greatest simple pleasures. The rich, spicy aroma created by the grinding of fresh roasted coffee is nothing short of amazing. Grinding coffee, corn or spices can be not only enjoyable, but a relatively simple affair on our hand operated grain mill.
DIAMANT D.525 Handmill for Any Kind of Grain
Our handmill is suitable for grinding of any kind of grain, corn, coffee, chemicals, spices, etc. and with this mill you will easily get fresh, wholegrain flour for your homemade bread.
The D.525 Grain Mill is Easily Operated
DIAMANT hand operated grain mill type D.525 is a strong mill which is designed to meet the requirements of a small hand-operated mill, easy to operate by means of hand power. No special tools are required.
This hand operated grain mill mill can be used for grinding of products with a high moisture content as it can easily be opened and cleaned without any special tools. Due to the special force-feeding worm the mill is suited for grinding products with a certain oil content.
The Diamant mill is now available in two models
525010 Diamond mill with steel discs 14/15 Standard version without a belt groove in the flywheel. Use as a hand mill.
Of course, a pulley with groove can be purchased as an accessory at any time.
525010-MR Diamond mill with steel discs 14/15 with the belt groove in the flywheel, to accommodate a V-belt for the possibility of using a motor to drive the mill.
Difference in the flywheels
Left: Standard version without groove in flywheel 525010
Use as hand mill
Right: Version with belt groove in flywheel 525010-MR
Use with motor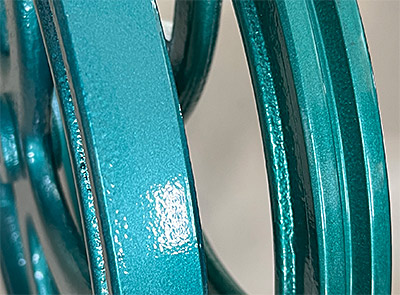 Electric Motor
The flywheel of the Diamant version with belt V-groove has a groove for the V-belt drive and can be driven by an electric motor. We do not deliver the motor, but recommend a ½ HP or 1 HP motor, 1400 r.p.m. and a pulley of 85-90 mm for the motor, making the rotation of the grinding disc approx 300 r.p.m.
Specifications  
Steel Grinding Discs
The heart of the mill consists of the specially cast and hardened grinding discs. They are supplied in various types depending on the purpose. Type 14/15 for normal grinding,  type 14a/15a for finer grinding and type 16/17 for animal feed and cereal.
Distance Adjustment of Discs
The distance between the discs is adjustable so the grinding fineness can be changed during operation.
Thousands sold world-wide since 1920!
Unique Pre-Grinding System for Superior Results- Only the Diamant has it! Several blunt pre-grinding ""teeth"" gently crack grain. When it gets to the auger it's perfectly prepared for a smoother, more even grind. Competitor models use an impractical spring arrangement that's not nearly as effective and completely lacks the elegant engineering of the Diamant.
Grinds fast and fine – Extra large burrs churn out flour as fine as store-bought 20 percent faster and much more easily than any other hand-turned mill on the market.
Grinds virtually anything – Corn, beans and most oily materials can be ground without using a special auger. Grinds all grains, many spices, legumes, beans, nuts (except peanuts) and seeds without changing burrs! Make flour, meal, coffee, sesame tahini, cereal or animal feed. Specially engineered iron/steel burrs can grind just as fine as other mills' stone burrs and eliminates stone grit in your flour.
Easy to use:
The large flywheel is made of solid cast iron, not aluminium. It adds momentum to the rotation, turns smoothly and can be easily motorised in the version with belt V-groove.
Adjusts quickly and easily from powder-fine to coarse.
Long wooden handle lets you use two hands for more leverage. Or share the work with a friend (face each other). Grinding is much easier – and more fun – with two people!
Bushing/sealed bearings eliminate maintenance – never need to be oiled!
Built to last – This mill hearkens to an earlier time when things were built to outlast their owner and be passed on to the next generation. Solid cast iron mill is one of the heaviest hand mills in the world. Non-toxic green finish with gold trim, force-feeding worm auger pre-cracks grains, three kinds of burrs add versatility, one-year warranty.
Note: After grinding oily or fatty foods, it may be necessary to demount the mill and clean the mill casing, cover and grinding plates. The mill comes with instructions on how to do this. If you are storing the grinding plates for several months in a humid environment, it's a good idea to coat them lightly with vegetable oil to prevent rust. With normal use, the grinding plates should last for many years.