✓ Five-tray, 0.74 m2 capacity
✓ Plastic Trays measure 38 x 38 cm
✓ 48 hour, digital timer
✓ Two Time, Two Temperature speeds up drying
✓ Made in USA
✓ Clear door to easily view drying progress
✓ Adjustable Thermostat 35° C to 74° C
✓ 12.7cm fan, 440 watts for increased air circulation
✓ Dimensions (WxDxH): 43 x 48 x 24cm
✓ Weight: 7.5kg
✓ Shipping Weight: 8.4kg
✓ Limited 5-year Warranty
5 plastic trays with BPA free mesh screens, 8 square feet of drying space, 48 hour digital timer with 2-time / 2-temperature setting, clear door for easy viewing of drying progress, adjustable thermostat range of 35°C to 74°C, 12.7cm fan for excellent air circulation. Easy to use. Includes Guide to Dehydration and Preserve It Naturally so you can learn how to dehydrate all types of foods. Made in USA.
48 hour DIGITAL CONTROLLER! *NEW* Two Time, Two Temperature digital controller speeds up the drying process. After loading food onto the trays, set the dehydrator at a higher temperature for a specified period of time; and then set the dehydrator at a lower temperature for a specified period of time. The unit automatically adjusts after the 1st setting and turns off when the 2nd setting is complete.
Dehydrate fruits, vegetables, nuts, meat for jerky, fruit puree for fruit roll-ups, raise bread or make homemade yogurt. The perfect snacks for you and your guests. Excalibur's patented hyperwave technology and horizontal parallex drying removes water from food with a continuous circulation of thermostatically-controlled warm air, efficiently and user-friendly.
Manufacturer model number: 4548CDB
Excalibur's Patented HYPERWAVE™ Technology
Excalibur's patented Hyperwave Fluctuation Technology changes heat through the drying cycle to evaporate moisture faster, better, and safer, for the drying of fruit, vegetables, and jerky.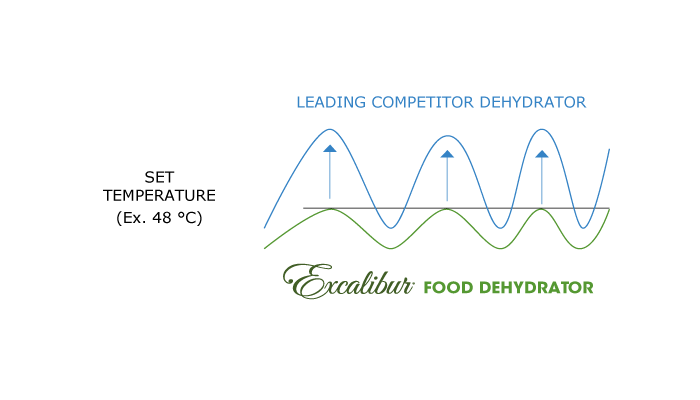 Excalibur dries BETTER, FASTER & SAFER thanks to our HYPERWAVE™ FLUCTUATION TECHNOLOGY!
Ordinary dehydrators produce constant, unchanging heat causing "case hardening," a dry surface
with moisture trapped inside — a perfect environment for yeast, mold, and bacteria growth.
Excalibur's Adjustable Thermostat lets you take advantage of Hyperwave™ Fluctuation (changing
heat through the drying cycle) for faster, better, safer dried foods. As the temperature fluctuates
up, the surface moisture evaporates. Then, as the temperature fluctuates down the inner moisture
moves to the drier surface. The food temperature stays LOW enough to keep the enzymes active,
and the air temperature gets high enough to dry food fast, overcoming yeast, mold, and bacteria
growth and spoilage.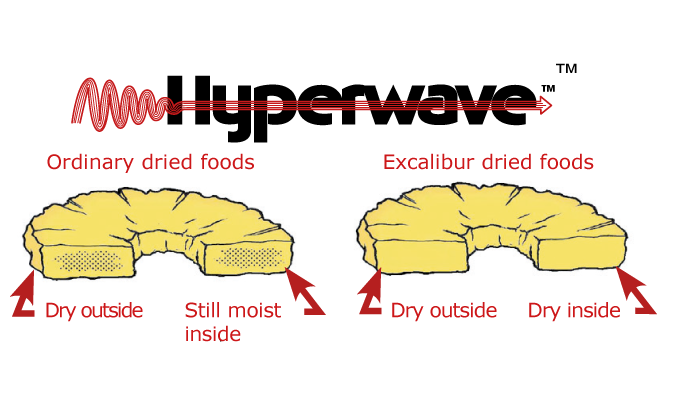 Parallexx® Horizontal Airflow — Fast, even dehydration.
The fan, heating element, and thermostat are in the back. Cool air is drawn in, heated, and distributed evenly over each tray. This exclusive design helps the food dry faster, retain more nutrients, and look and taste better, without tray rotation.